If you plan to visit the Alsace region of France, one town you should not miss visiting Strasbourg, this city has a rich culture been at the border of France and Germany. Besides, it has numerous historical and tourist attraction sites that are worth to visit. The food and wine are irresistible. Strasbourg is among the largest cities in France. Moving around the town is also easy and convenient; you can use a boat, vehicle, bicycle, etc.
Since this town lies at the border of Germany and France, it's an ideal stopover point for individuals transiting for earthier countries. Besides, the fantastic spots to visit in the city are close to each other. Thus you can visit a considerable number of places in just a few hours. If you want to visit Strasbourg in only one day, you'll have many places to visit. Follow closely as we get more details about these places. In your one day in Strasbourg, our guide will offer essential information about the places you can visit besides where to wine and dine and accommodation.
THE IDEAL TIME TO VISIT STRASBOURG
Although you can visit this city at any time of the year, most visitors come to Strasbourg in two main seasons — summer and spring. During these seasons, the plants in the region are blooming, plants on the canals, parks and pedestrian walkways are magnificent.
You can also schedule your trip during the Christmas holiday. The entire Alsace regions are blooming with Christmas markets and a lot of visitors. The city looks like a snow globe in this festive season besides you can get amazing Christmas gifts for your loved ones. But remember if you visit the City during Christmas, you must be ready to pay more for accommodation and similar services.
If you have planned to visit the city for only a single day, you must schedule your visit when the weather is favourable to avoid frustrations. You should plan your visit when the tourist numbers are low. If you visit in the wrong season, you'll have to battle the crowds beside you may not visit all your planned sites due to erratic weather.
Summer records the highest number of visitor in Strasbourg, with August being the peak. Thus if you want to enjoy your visit to this incredible city, you should schedule your visit between April and June or in September. In these seasons, walking through the city is exciting and carefree.
THE FOLLOWING ARE SOME OF THE FANTASTIC PLACES THAT YOU CAN VISIT IN STRASBOURG ON YOUR ONE DAY TRIP.
PLACE KLEBER
This is the largest square in Strasbourg city centre.
This place is named after a Skilled French general who was well known in the time of the revolution. His name was Jean-Baptiste Kleber. He was a chief supporter of Napoleon during the war in Egypt, and he was assassinated in Cairo.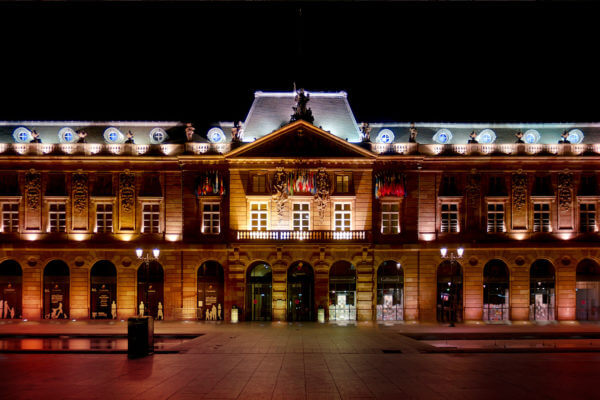 Place Kleber hosts the monument of Kleber and several historical buildings such as L'Aubette which was a military building. This building was renovated, and some people refer it to as "The Sistine Chapel of abstract art".
At present, a part of the building hosts a luxury shopping mall.
If your visit to Strasbourg falls within the Christmas season, you'll have the chance to see one of the biggest natural Christmas trees in Europe that is erected in this square each year.
PALAIS ROHAN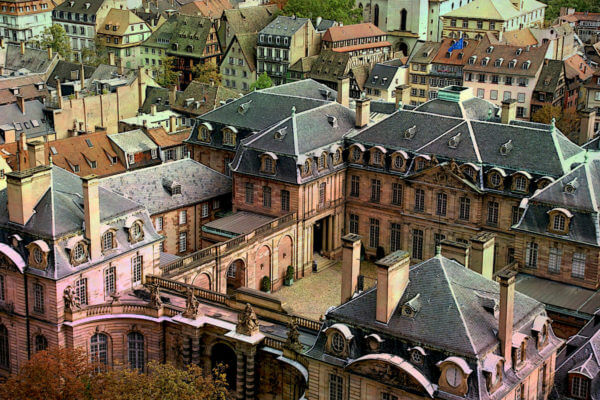 The Palais Rohan is a building that mimics a Parisian mansion, and it was built between1732-1742. Today this building hosts three museums that include the Archaeological Museum, the Fine Arts Museum, and the Decorative Arts Museum.
If you've a few minutes to spare during your visit to Strasbourg you can choose to visit any of the museums or all of them. You'll find different object and items displayed in these museums. This building is close to the Strasbourg Cathedral it's also close to the venue for the boat tour.
THE GRANDE ÎLE
From the Grande Île you can take a tour and explore Strasbourg City and the Island. In your tour, you'll have the opportunity to take amazing photos of the city's winding streets and make your discovery of the city.
Wonderful places where you can stop for photo shoots include Place Gutenberg, Maison Kammerzell, and Moody Alleyways among others. Additionally, you'll have a few churches to see on your tours such as the Church of St. Peter the Younger, and the St Thomas' Church.
Since this is an Island, you'll have the opportunity to wander along the waterfront that surrounds the Grand Île.
ALSATIAN MUSEUM
You can sight the Alsatian museum from the southern end of the Grand Île. This area has a collection of buildings that host the museum. Although you may not discover style these buildings from the street, they are Renaissance styled manor buildings. When you visit the museum you'll be amazed by the building does architecture comprise up narrow staircases, creaking floorboards and a fantastic courtyard that joins the three buildings.
The exhibits in the museum include items that were used by inhabitants of this region during the 18th and 19th centuries. The rooms in the museum have been designed to correspond to the looks of that ancient period. These exhibits include items that were used in day to day activities of the people.
A visit to the museum will enable you to get a taste of how life was for the inhabitants of Alsace during those old days.
This museum was founded in 1902 as a way of resting Germanization of Alsace. At this time, Alsace was under German rule. Another museum you can visit in Strasbourg is the Historical Museum of Strasbourg that has exhibits dating from the 13th century to 1800.
THE STRASBOURG CATHEDRAL
The Strasbourg Cathedral is one of the significant landmarks of Strasbourg City. It's comparable to the Cathedral of Notre-Dame. This cathedral is a Gothic masterpiece that has an excellent sandstone exterior. This cathedral has a fantastic history having been completed in 1439 after 400 years of construction.
The cathedral has a lofty 142-meter tower that enabled the building to ranks as the world's tallest building from 1647-1874. You can say you've visited the Strasbourg cathedral until to you get to see its interior. As you take a tour inside the building, you'll be welcomed by multi-coloured light, as a result of brightly coloured glass windows on each side of the building.
Just above the entrance to the cathedral, there is a rose window. Additionally, another prominent feature of the cathedral is the astronomical clock. This clock is a historical masterpiece with complicated mechanics tat ads on to its cute appearance.
The first astronomical clock was built in 1352 to 1354, and it was in perfect working condition up to the 16th century. The current astronomical watch was installed in 1842. This watch is available for public view at 12.30 p.m. each day except on public holidays and Sundays. This means 12.30 p.m. is the busiest time to visit the cathedral. If you don't wish to view the astronomical clock, you can schedule your visit to the cathedral at any time of the day.
At the top of the cathedral, don't forget to enjoy an aerial view of the city.
PARK L'ORANGERIE
From the city centre, you can take a tour of the Park L'Orangerie. This is a perfect place if you want to see storks. Alsace is home to many storks although most people regard storks as a Polish symbol.
In this park you'll have the opportunity to see an innumerable number of storks in the nests, flying around, some walking around and other flying over visitor's heads. Funny enough, you can still see the storks in winter since most of them lost the instinct to migrate to Africa during this season.
It's usually fun to chase the storks around and take fantastic photos of these birds. The birds will spice up your trip to Strasbourg.
LIGHT SHOW AT THE NOTRE DAME CATHEDRAL
When you visit Strasbourg in July, August or September, you can plan to attend a light show at the Notre Dame Cathedral's walls. This light show is displayed on the sidewalls of the cathedral several times each evening at the Castle Square (Place Du Chateau). The frontage of the cathedral is also illuminated for the entire period of the show. The time for hosting the show varies, but you can confirm the schedule before the visit.
BOAT TOUR
Do you enjoy boat rides, and then you can go for a boat ride on your trip to Strasbourg. At any time of the year, you can secure a 70-minute boat ride and get a close view of the following the Neustadt imperial quarter, the Vauban Dam, the Covered Bridges, Petite France, and the European parliament.
When planning the boat tour, you must know that dogs aren't allowed into the boat. Thus you must know what to do if you're travelling with your pet. If you have a Strasbourg pass, you won't pay a dime for the boat tour. Alternatively, you'll pay between 10.30€ and 13.50€ for the boat tour. You'' get better rates if you purchase tickets for several individuals. These tickets are available at a ticket shop adjacent to the cathedral. The boat tours mainly start close to Cathedral Square.
JARDIN DES DEUX RIVES
The Jardin des Deux Rives also referred to as the Two Shores Garden sits on both banks of the Rhine (in Germany and France) and both sides are connected by a magnificent bridge. This site is an explicit expression of the French-Germany relationship. It's an ideal place to visit— in a matter of seconds, you're in two different countries. From this location, you'll have the opportunity to tour the Germany city of Kehl and make your way back to Strasbourg. On your way back from Germany you can stopover at the next green space. If you visit this site, you'll have the opportunity to brag to your pals that you had visited Germany and France for a holiday.
PETITE FRANCE
Petite France is one site in Strasbourg that will leave you amazed. This site has lots of tourist at each given time. The neighbourhood has a lot to offer. This location has a fantastic combination of half-timbered houses and waterways. This makes its one of the most attractive spots in France.
If you desire to see the real Alsatian scene in Strasbourg, then this is the place to visit. As you stroll through its calm streets, you'll see many timber-framed buildings, each with a unique tint. Your tour will take you from one waterfront to another through a series of bridges. As you cross the fortified medieval bridge of Ponts Couverts, you should make a stopover to see the Barrage Vauban, which is a stone bridge that is at the Ill River.
WHERE TO EAT & DRINK IN STRASBOURG
In your tour, you'll probably need to visit a restaurant or two for some meals. Alsace is a very welcoming region, and you can resist their cuisine. Besides the fantastic sites, the Alsatian gastronomy should be part of your itinerary.
Imagine the tempting delicacies served in large plates and incredible cutlery. This city has all sorts of restaurants to cater for all kinds of people.
Whether you want vegan food, local or international cuisines, you'll get them. You'll have ample time to wine and dine on your single day trip to Strasbourg.
When you visit Strasbourg, you need to sample choucroute; this is a local meal similar to the German sauerkraut. This is usually fermented cabbage served with pork, chicken, or sausage. This meal can go along with many traditional Alsatian dishes at Maison des Tanneurs. This is an ideal place for meals in Petite France. Maison des Tanneurs is a historic building that houses a restaurant that opens for lunch between 12 noon and 2 p.m. each day. If you want a perfect spot to enjoy your meals request for a table on the terraces facing the canal, this restaurant has been run by one family since 1956.
If you have a taste for carbs pop in at La Corde a Linge, this restaurant is also in Petite France. They serve spätzle, which are soft egg noodles are accompanied by a variety of sauces. You should try spätzle alongside munster cheese which is a soft cheese made from the Alsatian and Voges speciality.
If you desire to grab some pizza or beer, visit Academie De La Biere, your appetite will be quenched. You will have the opportunity to drink beer and tarte flambee, commonly referred to as flammekueche. This restaurant has branches close to the cathedral and in Petite France.
For wine tasting activities, visit Terres a VIN. If you wish to bite some chocolate, Jacques Bockel chocolaterie is the place to be.
VEGAN DELICACIES
No one could imagine Strasbourg has many vegan restaurants, but fortunately, if you're a vegan, you'll find many restaurants in the city serving vegan meals. Actuality you won't even have the time to sample the vegan meals in these restaurants. Probably you'll come back to the city for more in your next trip, maybe during the Christmas markets.
BELOW ARE SOME OF THE BEST VEGAN RESTAURANTS IN STRASBOURG.
VÉLICIOUS
Vélicious (43 rue Geiler) serves organic plant-based cuisine. You can't resist ordering their vegan cheese platter that comprises of bread, fig chutney and cheese. Alternatively, you can request a Middle Eastern wrap that has seitan (chickpeas, seitan, lemon zest, cream and mint). This meal is served with a green salad. Vélicious is truly one of the best vegan restaurants in Strasbourg.
VÉLICIOUS BURGER
This food joint is located on the main tourist street (20 Grand'Rue), and it's the fast-food version of Vélicious. For example, you can order Queen Burger with fries; this will include ketchup and vegan mayo, which is tasty. If you want delicious fast foods in Strasbourg that will satisfy your appetite, then stop by Vélicious Burger. Before you get out of this restaurant, your hunger for fast foods will have been satisfied. You can decide to eat at the restaurant or pick a take away.
PIZZ'AROME
Pizz'arome is the ideal place for a vegetarian and vegan pizzeria. This is a rare meal, but you can find it in the restaurant. Both vegetarian and vegan slices are in separate sections. For the vegan pizza, you can either opt for vegetable toppings or cheese. Once you've placed your order, it'll be ready ion no minute, and you can eat at the restaurant or take it with you.
HARMONIE BOWL & JUICE
Harmonie Bowl & Juice is a perfect place for your lunch. They serve delicious and fresh meals. For example, you can order the Tokyo bowl, which is a combination of avocado, bean, cucumber and adzuki). Alternatively, you can order the Tokyo bowl with sweet potato, tofu and kimchi. Your favourite drinks, such as watermelon juice and iced tea, are also available — the food and beverages in this spot taste just as good as they appear.
BISTROT ET CHOCOLAT
If you want to taste some desserts, then head to Bistrot et Chocolat. In the restaurant, you can order iced latte topped with milk. This drink will offer you the energy you'll need to proceed with your tour. Alternatively, you can order delicious cakes like chocolate molten lava cake at this joint.
WINSTUB
Winstub is the ideal place for dinner. In this restaurant, you'll get traditional Alsatian delicacies. You'll have the chance of sampling foods from both French and German cultures besides other exotic meals.
The restaurant is a laid-back German pub-low ceiling with exposed timber beams. You'll get mouthwatering meals such as pretzels served alongside French country dishes, sausage and beer. You'll have plenty of meals and drinks to choose at Winstub. They serve pretty incredible meals and drinks.
You can't think of a better place to have your dinner in Strasbourg other than Winstub. Just like visiting other cities, if you plan to dine in tourist sites, you'll pay more for the meals and drinks. It's thus essential to do some research beforehand to locate an ideal place for your meals. When doing your research, consider the above restaurants that I have highlighted.
WHERE TO STAY IN STRASBOURG
In Strasbourg, you'll have unlimited hotels where you can relax after a long day touring different sites. No matter your budget, you'll get an excellent place to rest after a day full of exciting activities. When scouting for an ideal accommodation in Strasbourg, it's vital to select a hotel close to the places you'll be visiting.
Additionally, visit the hotel website and gauge the services offered by the hotel. It's also vital to compare prices before booking your hotel. Hotels that are located close to the tourist scenes are the most expensive.
The city has gorgeous hotels that will make your visit memorable. For example, if you want to have a leisurely or romantic trip, Cour du Corbeau and Hotel and Spa Le Bouclier d'Or are excellent hotels where you can spend your night.
If you desire a tourist's area close to Parc de l'Orangerie, then La Residence de l'Orangerie is the place to be. This is a quiet, serene environment in Strasbourg.
If you've a limited budget you can opt to stay in City Residence Strasbourg; this hotel is only a few minutes' walk from the city centre and it's one of the best-value accommodation sites in Strasbourg.
For a budget stay, check out– it's a short walk from the city centre and the best value accommodation in the city.
OTHER NOTABLE HOTELS THAT YOU CAN RESIDE FOR A WHILE IN STRASBOURG INCLUDE:
The Regent Petite France
Hotel Villa d'Est
Le Loft 13
Le Bouclier D'Or
Hotel D
Chut Hotel Restaurant
In your trip, remember to have your camera to take photos of fantastic sites and the delicious meals. By the time you're about to leave Strasbourg after a long sightseeing day, you'll have an album of travel photography. When the sun starts to set, you'll be wondering how fats the day has come to an end.
STRASBOURG HAS SO MANY AMAZING SITES AND ACTIVITIES YOU CAN ENGAGE IN, AFTER YOUR DAY'S VISIT, YOU'LL HAVE THE URGE TO PLAN FOR ANOTHER TRIP TO GRATIFY YOUR DESIRE FOR AMAZING SITES AND DISHES.