Madrid has long been a top tourist destination. People from around the world flock to Spain's central capital to admire all that the city has to offer. It's a perfect destination for a long overdue summer holiday!
Day 1: Start the trip to Madrid
You'll probably start your travel day at the London airport, Once you board your plane, you should arrive in less than three hours. You can also travel by train if you'd like, but be prepared to ad another 12 hours to your travel time.
Once you've arrived at your hotel, it's time to start exploring this wonderful city! By now, you're probably famished from your travels, so why not find a good place to eat? The Cave Calle Baja is a good place to start. They serve tapas and many other traditional dishes. They are located in the central part of the city and are just a short walk or ride away from most hotels.
From there, you can take the Spanish Inquisition walking tour. Rest assured, it's nothing like you may have expected from the Monty Python sketch. The walking tour gives visitors insight into the history and legacy of the real Spanish Inquisition. It dispels many of the myths and misconceptions. It's a very popular tour in Central Madrid that is a must for travelers and history buffs.
Right across the street from the tour is the historic Plaza Mayor. This central plaza has over 200 balconies. The iconic building has hosted bullfights, executions, royal coronations and other public ceremonies. You can visit this location anytime free of charge.
After wandering around the town during most of the day, you're probably looking for something to do during the evening. You can do a little shopping at the nearby Mercado de San Miguel. This covered marketplace is home to many merchants offering wares for just about any kind of interest. You can also take some time while you're there to explore the local nightlife. Stop in a nearby restaurant for a delectable meal or enjoy some live music before calling it a night and getting ready for the next day's adventures.
Day 2: Guided tour of history, architecture, museums and skyscrapers.
If you feel like getting more of a feel for the city, hop on a sight-seeing bus. Guides will give you more information about the local culture and history. There will be plenty of photo opportunities along the way. Most of these tours allow you to exit and enter anytime you'd like throughout the day.
For those who are looking for a more cultural experience, spending some time at the Thyssen-Bornemisza museum is essential. The museum is home to some of the most exclusive private art collections in the world. Many works date back to the 13th century. It's part of the Paseo del Arte, and is a wonderful distraction from the hustle and bustle of the busy city life.
Afterwards, you may feel like a nice dinner and a few adult beverages. The Del Diego Bar should be your next stop. This legendary pub is one of the best bars in Madrid. They offer a nice selection of local, national and international cocktails for even the most discerning tastes. A nice place to relax and unwind after a busy day.
A unique way to explore more of Madrid is by taking a group cycling tour. These tours are available during most evenings. You can hop on a bike with your traveling companions or join fellow cyclers and explore more of the city. You'll be getting a good workout in and get to see more of the city by night. It may even give you a few ideas of places to explore during the rest of your stay.
Day 3: Between the magnificent Royal Palace of Madrid and the Joy Eslava Theater
Start the day off right with a guided tour of Royal Palace of Madrid. This 90-,minute guided tour provides some background into the history of one of the oldest palaces in all of Europe. Everything is preserved and maintained to the same conditions as when it was first built centuries ago.
If you want to do a little more shopping, you can spend a few hours in the Las Rozas commercial district. There are over a hundred different shops and boutiques to explore. There are also a nice variety of cafes and restaurants to enjoy a nice meal in.
For those who want to explore even more of what Madrid has to offer, you can participate in a Segway tour of the city. Segway vehicles are easy to use once you've gotten on one. They allow you toI explore as much or as little of the city as you want to, and you can go at your own pace.
Teatro Joy Eslava is a nice alternative for those who want to enjoy Madrid's busy nightlife. The popular nightclub hosts dance parties, concerts, comedy shows and other events. There are dance parties for people under 18 to enjoy as well. A popular destination for entertainment enthusiasts from around the globe.
Day 4: you can't miss seeing the Reina Sofia Museum and the Tablao Torres Bermejas
If you want to learn more about the local culture of Madrid, you may want to spend part of your last day at the Reina Sofia Museum. Here you'll find a vast array of works of art from some of the area's many very talented local visual artists. Collections are rotated on a regular basis, so visit their website to see what will be featured during your stay.
Another option is to take a day trip to explore the area's many wineries. Guided tours and enjoying the countryside are highlights of these excursions. You'll get to sample local wines and may decide to take a bottle or two back home with you from your trip!
Transportation enthusiasts may want to spend some time at the Atocha Railway Station. This is another free destination that offers a lot of insight into the history of the area's transportation routes. The indoor tropical gardens are a nice distraction for passengers awaiting the next train to another destination.
If you have some time before you have to go, you may want to spend your last few hours in Madrid enjoying a flamenco show. Tablao Torres Bermejas offers both fine dining and live flamenco performances nightly. They last for about 90 minutes and are a great way to end your vacation on a high note!
These are just some of the many things to do in the city of Madrid. Traveling around the city is very easy. You can rent a car at most airports, take hotel shuttles, or embark on a bike, bus or Segway tour of the city at any time, day or night.
Here are a few things you can do in Madrid in September:

Thing you can do in september: Will To Fly – tip 1
Participate in the Apetura Madrid Gallery weekend. Art lovers from all corners of the globe flock to Madrid in fall. The Apetura Madrid Gallery weekend in mid-September brings art collectors and artists together for a fun-filled weekends. Thousands of works are put on display. Brunches and art clinics are held, and all events are free of charge and open to the public.
Thing you can do in september: Will To Fly – tip 2
Take time for a picnic. Even though Madrid, is one of the busiest cities in the world, there are plenty of places to take a time out and enjoy living in the moment. The city is beautiful in the fall, and having an old-fashioned picnic in one of their many parks is a great way to take a time out with family, friends and other loved ones.
Thing you can do in september: Will To Fly – tip 3
Enjoy a favorite flick. The Cibeles de Cine Festival is an annual film festival that draws large crowds. Films are shown nightly, and range from the latest big-budget blockbusters to well-known classics and family friendly films. Most films are shown in their original language with Spanish subtitles. There are workshops and children's activities during the festival to partake in as well.
Thing you can do in september: Will To Fly – tip 4
Go on a food tour. Another way to enjoy more of the city is by going on a food tour of Madrid. Taking a Tapas, Taverns and History tour will give you more insight into local cuisine and some of the history behind it. You'll learn to eat like a native and have a greater appreciation for the area's rich culinary culture.
Thing you can do in september: Will To Fly – tip 5
Go on a shopping spree at Fashion's Night Out. Shoppers interested in the latest styles and trends make Madrid a stop in their travel itinerary every year in mid-September. The event is hosted by fashion mogul Vogue and hosts over 150 designers every year. You can enjoy live music, fashion shows and get insider scoops on the latest designs while you stock up on the latest must-have items for your wardrobe.
Spring is also a nice time to visit Madrid.
Here are a few local attractions for visitors of all ages and interests to enjoy:
Madrid in the spring: Will To Fly Tip 1
ONE Watch the cherry blossoms bloom. The city of Madrid bursts with color as the cherry blooms blossom in May. The Quinta de Molinos park is a perfect place to watch the blooms in action. It's just a short walk or ride from the city center. You can get there by foot, bus car or taking one of the local train lines.
Madrid in the spring: Will To Fly Tip 2
Enjoy the Easter parades. Easter parades in Madrid are another very popular tourist attraction every year. There are dozens of parades that take place during Holy Week every year in the area. Each celebration is held by one of the many local churches. They offer insight into the city's rich religious traditions and often re-enact several well-known Biblical scenes.
Madrid in the spring: Will To Fly Tip 3
Experience a live soccer match. Soccer, or football as it's more commonly known in Europe, is one of the most popular sports in the region. Madrid's most popular teams are Atletico de Madrid and Real Madrid. You may have to do a little homework ahead of time and buy your tickets weeks or even months in advance, but the experience of seeing a soccer match live in person is unparalleled. The rivalry and action is something that many people look forward to every season.
Madrid in the spring: Will To Fly Tip 4
Spend some time at the Matadero. The city's former slaughterhouse has been refurbished into a growing cultural center. There are a nice selection of shops and restaurants to visit while you're there. You can enjoy a documentary film at the local cinema or enjoy other local works of art in the area.
Madrid in the spring: Will To Fly Tip 5
Shop the day away at the Rastro. The Rastro is Madrid's largest and most popular street market. There are many vintage and new items that you can buy. The market is open only on Sundays and during public holidays. Be prepared to plan ahead, as the marketplaces tend to fill with people quickly. If you need a break from shopping while you're there, you can have a brew or a bite to eat at one of the many bars and restaurants along the way.
ONE DREAM. MADRID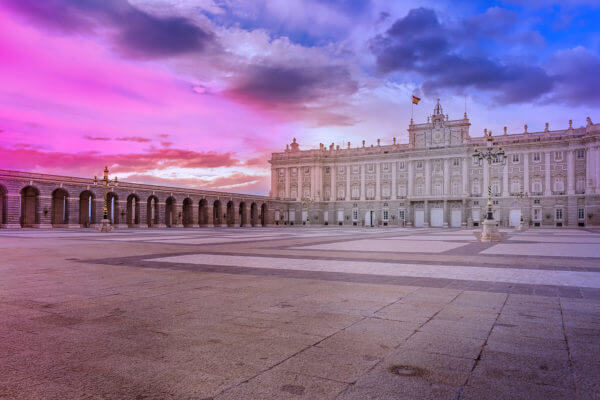 These are just some of the many things you can do in Madrid. Most stores offer their wares to buyers around the world, so take some time to research them before you stop by. You may be able to score some great international deals by shopping online. You can also ship most things you buy home so they'll be there waiting for you when you return from your trip.
One of the things you'll probably hear most often from people who have visited Madrid is how friendly the people are. The bustling city hosts thousands of visitors every season. Everyone from hotel owners to street merchants offers service with a smile. They know that visitors play an important role in the local economy, so they want your visit to be very enjoyable and memorable.
Madrid is also a city that is very accessible. There are many travel routes in and around the city. Your travel agent can help you navigate the best possible routes around the city. You can also take it upon yourself to explore the city and surrounding areas on foot, by car, bike,Segway, bus or rail. Each option offers multiple opportunities to learn more about the area and find local points of interest.
The city of Madrid never really sleeps. There are events and activities going on at all hours of the day and night. You'll find something for everyone in your travel group. Do your homework, and plan ahead. The busiest times of year are typically during the warmer weather months, so be prepared for longer lines and more congestion. Once you visit this magificient city, you'll be counting the days until your next visit!